Installing a pergola outside your home, office or estate can be a great way to elevate your outdoor living experience. A pergola is an outdoor open structure that serves as a shaded passageway or sitting area. They can be installed as a free-standing construction or can be attached to another building. From providing protection against the elements to enhancing the visual appeal of your gardens, the reasons to own a pergola are many. In this article, we compile together the 8 biggest ones.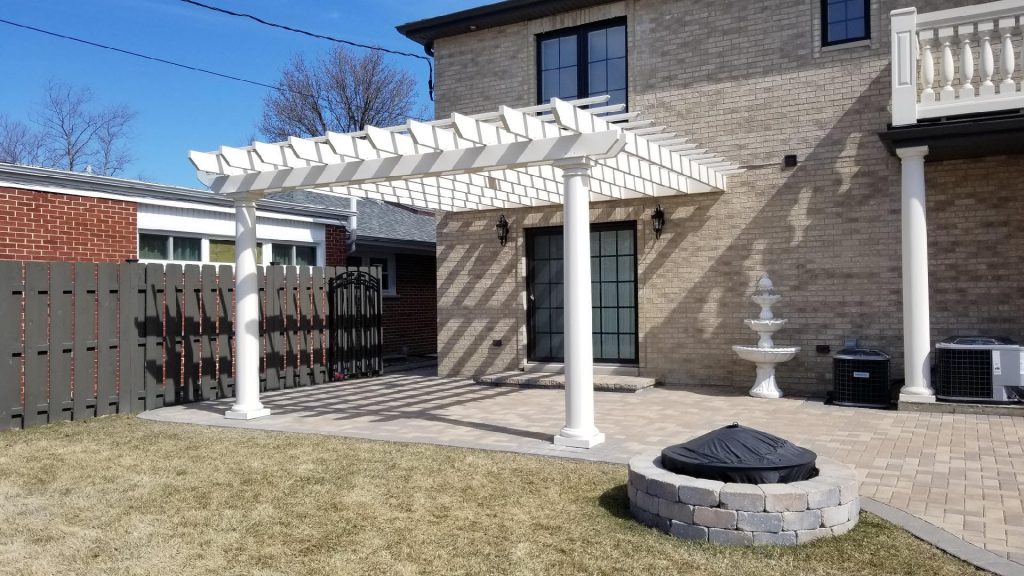 1. Privacy
Among the many reasons to own a pergola, one of the biggest ones is that it allows for greater privacy while still allowing you to fully enjoy the outdoors. While most pergolas tend to be open on all four sides, you have plenty of options at your disposal to increase its privacy. Latticework, vines, drapes, and curtains are just some ways you can upgrade your outdoor round column pergola with.
2. Protection from the Elements
Want to enjoy the summer weather without risking being burnt by the sun? Consider installing a pergola. Do you love the smell and ambiance of rain? Enjoy the full experience without getting wet with a pergola. Are you located in a climate with heavy snowfall and would like an area in your garden that isn't covered in feet of snow? You've guessed it – get yourself a pergola for your home.
A pergola can be a great investment for your outdoor area. It provides you protection against the harsh elements while also enabling you to safely enjoy all the pleasantries the outdoors have in offer. It serves as a 'comfort zone' to gather and relax in after spending time in the outdoor environment.
Compared to a standard patio roof, a pergola offers a distinct advantage over it. You can adjust the amount of sun and shade the structure provides by varying the size, shape, and angle of its rafters. In addition, electrical appliances such as fans, heaters, lights, and even television can be installed on pergolas. This can bring further enhancement to your outdoor comfort.
3. Adds Definition
Installing a pergola adds definition to your outdoor space. You can create a designated backyard sitting area, an entertainment lounge or a dining area. In addition, you can also stack many pergolas to create defined passageways or act as an unobtrusive and natural division of your garden space.
In addition, they can function as links to pavilions or to an open garden feature such as isolated terraces or pools.
4. More Garden Space
A pergola adds more space for you to hang your garden plants on. You can install latticework and let vines and ivies grow around them and create a beautiful natural green wall around and over them. You can hang potted plants from its ceiling and create a distinct yet homely look. Or, you can choose to attach raised beds to the sides of the pergolas and grow flowering plants on them. With a pergola, your creativity is the only limit to how you can utilize it for your garden planting.
5. Versatility
Pergolas are very versatile outdoor structures. You can have one ordered and built that exactly matches your taste and the needs of your garden. You can install one as a free-standing structure or combine it with other pergolas to create a larger shaded structure. You can also attach them to other buildings to act as a lead-in for them.
Couple this with tons of customizations on the pergola itself and you have a structure that is highly versatile in its uses.
6. Increase Real Estate Value
Experts agree that proper landscaping can tremendously up the value of your property. One affordable way to make your outdoor area more attractive is by installing a pergola. Compared to other garden structures such as gazebos, patios and elevated decks, pergolas tend to be far less expensive. And, we mean both in price and in long-term maintenance costs.
7. The Visual Appeal
As already mentioned, installing a pergola can greatly enhance the visual appeal of the outdoors. The largely minimal structure can be further improved upon through various additions to look more naturally in place regardless of how distinct the aesthetics of your gardens might be. By adding various elements to the pergola, you can create an outdoor living space that is truly in line with your style and personality.
8. Easy Installation
Pergolas are extremely easy to install. Whether you choose to purchase a DIY-kit or have the professional installed it for you, the job can be done quickly and without stress. Many modern pergola kits require no special tools or welding. You can largely install them with what's already at your home.
However, if you are considering adding more advance features to your pergolas such as installing an electrical circuit, it is always recommended to take the help of experts. Untrained hands working with electricity can be extremely dangerous.
Concluding Note
A pergola isn't a purchase but an investment. It provides real value both to your property and your outdoor living experience. It's gorgeous to look at, enhances your outdoor experience and is versatile enough to be used in a wide variety of outdoor applications.
We hope you enjoyed reading our article and found the information to be educational. Now that you've learned many reasons for incorporating a pergola into your landscape, learn about the benefits of owning a fiberglass pergola, the best pergola in the marketplace. Feel free to get in touch with our friendly staff by calling on our toll-free number 888-265-8661.