Thousands of years ago architectural columns were carved from blocks of stone or tree trunks. In modern history, the progression of porch columns has been from wood to composite materials. Wood, while preferred by some for its natural beauty and wood grain texture, will rot, get infested, crack, and/or split. Composite columns are meant to emulate ancient architecture in form and function but at affordable prices: The most common being the fiberglass column.
Fiberglass Porch Column Cost
Often times we buy products with the only consideration being the price tag. Some porch columns are really heavy so they require additional cost considerations like structural reinforcement to the foundation as well as the higher installation costs associated with heavy lifting. Other column materials are made in segments which requires a lot of time and materials for assembly and a lot of upkeep. Some columns are purely decorative and require structural supports inside of them in order to be load-bearing. Worst of all, most porch columns simply don't last and require replacement cost considerations: concrete erodes, metal corrodes, and wood rots and comes apart. Not only is the price tag of fiberglass columns low but so is the maintenance and installation cost. Please contact us to obtain pricing.
Fiberglass Column Uses
Perfect for interior and exterior application, our RoyalCast™ fiberglass columns are inherently load-bearing and can be structural with the help of hardware. Erroneously, the terms are often used interchangeably. Load-bearing columns transfer weight from above to a structural surface below, whereas structural columns prevent something, like a roof, from lifting upwards. Our cast fiberglass column shafts come as a single unit which can be split in half or to a variety of plan types by us or on site. We also make RoyaLite™ lightweight fiberglass columns which are made as halves specifically for non-load-bearing column cover applications. These fiberglass columns tend to be less expensive than our cast fiberglass columns in diameters/widths above 12″. For "stock size" porch columns up to 12″, even those acting as decorative covers, our cast fiberglass columns are less expensive. If you are looking for a simple square column wrap, some of our PVC column wraps are less expensive than our fiberglass options.
Fiberglass Column Availability
Fiberglass columns are available in any style imaginable. Standard styles include: round, square, rope, barrel, and Greek Doric. Round columns can be plain or fluted, tapered or non-tapered, segmented, roped, barreled, and custom.

Square columns can be plain or fluted, tapered or non-tapered, recessed panel, raised panel, and custom.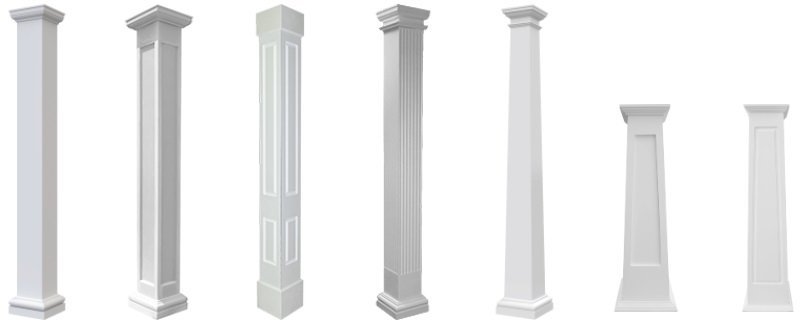 Our fiberglass columns are available in widths and diameters ranging from 5″ to 48″, with some spanning up to 46′ in height.
Fiberglass Column Maintenance
RoyalCast™ Fiberglass columns are considered a paint-grade product. They arrive either fully sanded or with a sanded seam. They can be left unpainted but the grayish color is usually not desirable. A high quality latex paint applied properly will keep you from revisiting the columns for a good 10-20 years, with maybe some minor touch-ups along the way. Our polymer stone columns come pre-finished but are about 30% more expensive. Our
RoyaLite™ fiberglass column covers typically come with a white marine-grade gel coat but can be pre-finished in any color or with a stone or granite finish. Since they usually come as halves, there will be a visible seam and visible screw holes that will need to be covered once installed.
Fiberglass Column Warranty
Our fiberglass columns come with a limited lifetime warranty. Wood columns, concrete columns, and aluminum columns typically come with a 1 year warranty. A porch column is only as good as its warranty.
Why Choose Royal Corinthian Fiberglass Porch Columns
Unlike the majority of the industry, our fiberglass columns come standard with caps and bases made from the same material. The competition often imports polyurethane or synthetic injection molded caps and bases. Polyurethane will dent and may break and molded plastic products can warp. Mixing materials is not advised for painting purposes: Paint adheres and reacts to materials in different ways so mixing can expose the paint to different expansion rates, which can increase maintenance.
We offer more styles and sizes than anyone in the industry and our various materials can be mixed and matched on a single project since we make all of our columns from the same molds. In other words, if you choose our cast fiberglass columns for load-bearing areas and opt for our lightweight fiberglass column covers elsewhere, the products will match.
We guarantee the fastest lead-times, lowest prices, and the highest quality products. We are big enough to compete on price yet small enough to offer an intimate customer experience.
In addition to columns, we manufacture cornice, balustrades, pergolas, fireplace surrounds, and an assortment of composite millwork products. Bundle and save!