Chippendale Panels for Balustrades and Gates
Royal Corinthian manufactures structural and decorative Chippendale panels from composite materials that last a lifetime: RoyalCast
fiberglass, RoyalStone
 synthetic stone, RoyalThane
high-density polyurethane, RoyalPVC
 cellular PVC, RoyalGFRC
 glass fiber reinforced concrete, and RoyalCrete
 cast stone. The Chippendale panels can be used in combination with any of our balustrade systems or railings or as gates. They may also be incorporated into other railings not manufactured by Royal Corinthian.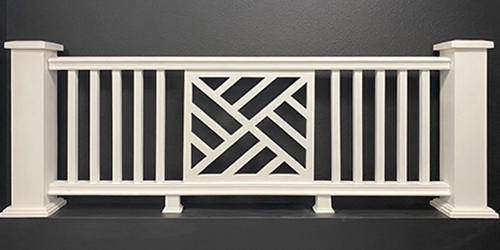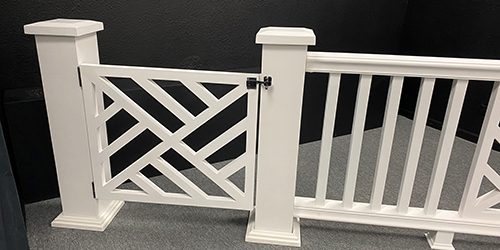 Standard Chippendale Panels
We offer 14 standard decorative panel designs in both rectangular and square shapes. The standard panels are 1-3/4" thick but we can make them thinner or thicker if you prefer. Our in-house mold making department and our CNC technology allows for custom designs to be fairly inexpensive, so if you don't see something that meets your requirements, we will make it and even assist in the design process. These Chippendale railing panels can be made to pitch to work on stairs. We have been designing, manufacturing, and installing our products since 1994 so rest assured that your home or commercial project is in good hands.
Royal Corinthian is the only manufacturer that offers factory assembled and/or pre-finished Chippendale balustrades. We will send entire rail sections, up to 12', with the rails, balusters, if any, Chippendale, and support block fully attached and ready to be placed between existing posts or columns or in combination with our structural columns or posts. It isn't inconceivable that 100' of balustrade can be installed in a matter of hours when ordered pre-assembled and pre-finished. After caulking the connection points, the balustrade is finished: no painting required. We can finish the product with any Sherwin Williams or Behr paint in order to match the trim or other features of your facade or any paint manufacturer that you prefer. Of course, these Chippendale panels are available without the rest of our balustrade components if all you need is the decorative panels.
Installing Chippendale Balustrades or Panels
Our newel posts and railings come with all the necessary hardware required to install them and make the entire system structural. All of our decorative panels adhere to 4" sphere spacing requirements but we can make more open style panels if desired. Each panel comes with a metal pipe on each end, which allows the panel to be installed into a top and bottom railing, but we can remove them.
Please follow us on Facebook, where you will find additional project pictures.