A column cover or a column wrap is an architectural column that goes around a structural support (wood post, I-beam, lally column, etc.) in order to conceal the support, wiring, or anything else for that matter. All of our columns are either intentionally made as column covers or can be split to become covers. Column covers are purely aesthetic or decorative and are not load-bearing or structural.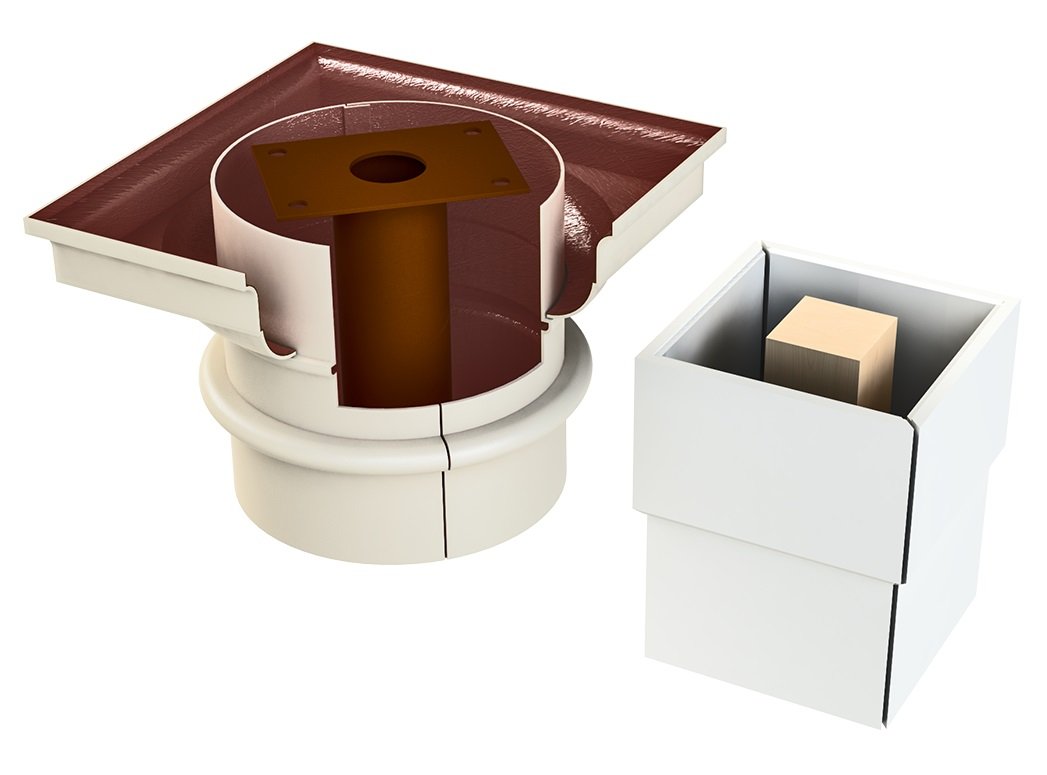 We manufacture several types of columns that are specifically intended to be used as column covers or decorative non load-bearing columns. These columns are manufactured as two halves to act as column covers or factory assembled to become decorative whole columns. We also manufacture several types of load-bearing columns that can be split in half for reassembly around supports. The columns are manufactured as wholes and can be factory split to a variety of plan types. In other words, ALL of our columns can be made as covers but only some of our columns are meant for load-bearing applications as long as they aren't split. A good rule of thumb is that if the columns started as halves or are split to any plan type, they are not load-bearing or structural and serve only decorative purposes.
Columns Split in Half for Reassembly Around Structural Supports
Our RoyalCast™ cast fiberglass and RoyalStone™ synthetic stone columns are load-bearing columns with shafts that are manufactured as whole units. As mentioned already,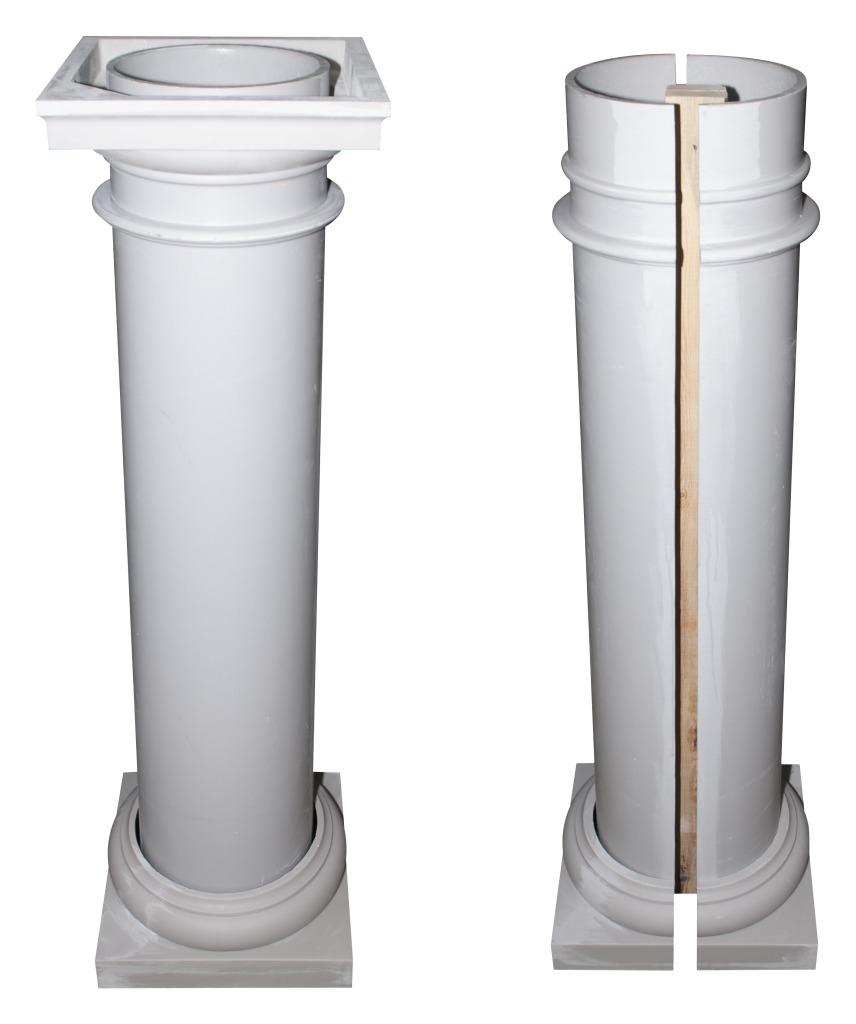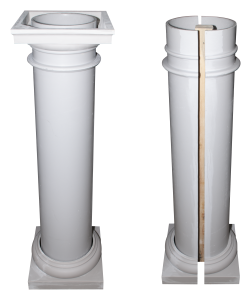 these can be split in half to act as covers or what we call: split for reassembly. They can also be split to any plan type: pilasters, 1/4 corners, 3/4 corners, chords, and many more. There is no issue in splitting our RoyalCast™ columns as the seam gets covered with bondo, primed, painted, and thereby concealed. Our synthetic stone columns, on the other hand, are pre-finished to a variety of colors and textures to imitate stone at a fraction of the cost and weight. We even offer a RoyalStone™ product that has actual coral/seashells mixed into the aggregate. Since these columns rarely get painted, the seam remains visible after installation, although a seasoned installer can minimize the seam. Many of our customers avoid the seam altogether by installing our whole columns concurrently with the structural support (see project photo above). The column is decorative and still considered a column cover since the structural support bears all of the overhead weight.
Columns Manufactured in Halves 
Our *RoyaLite™ fiberglass or "FRP" column covers and our RoyalWrap™ PVC column wraps are specifically manufactured as halves to act as covers. FRP column covers even come with an integrated lap flange in order to connect one half to the next. The flange isn't included when pilasters are desired. Both FRP and PVC columns can be assembled by us or you to form whole columns but they are still considered decorative columns as they will bear a marginal amount of weight when assembled. RoyaLite™ column covers are available in every style that we offer but our PVC columns are only available in square. PVC is essentially a wood alternative that will not absorb water, rot, crack, or split. They are available in many standard sizes and styles and fully customizable.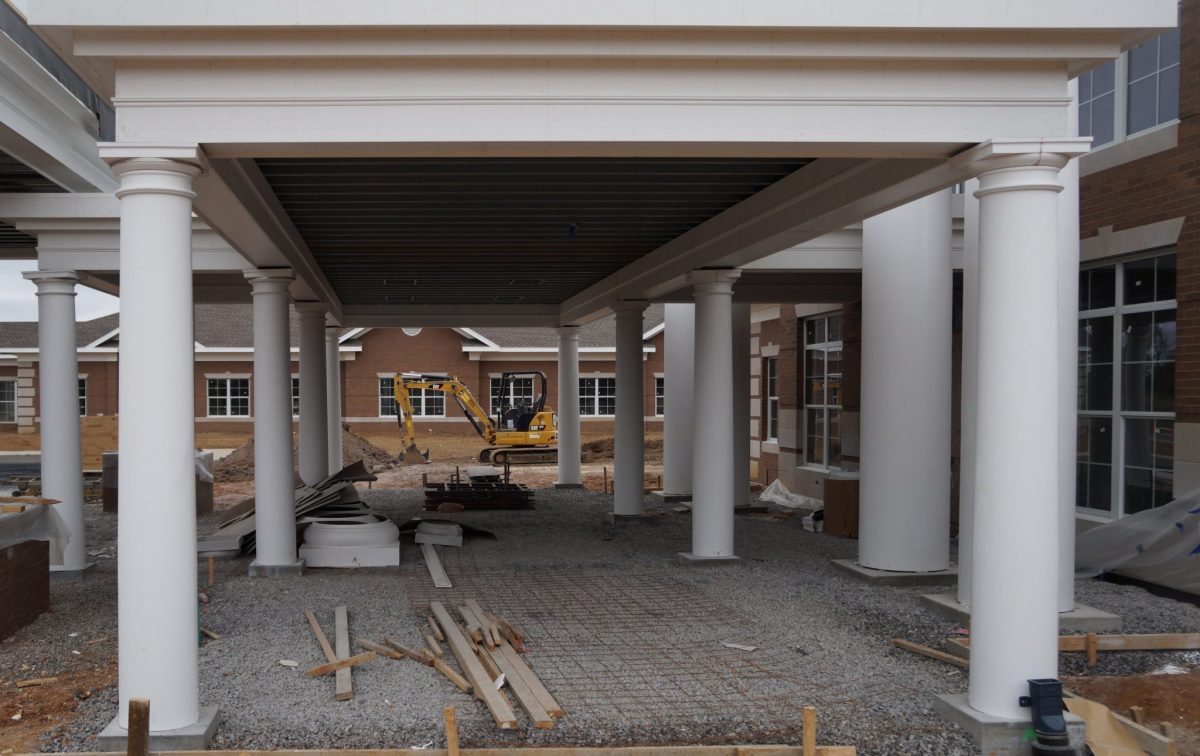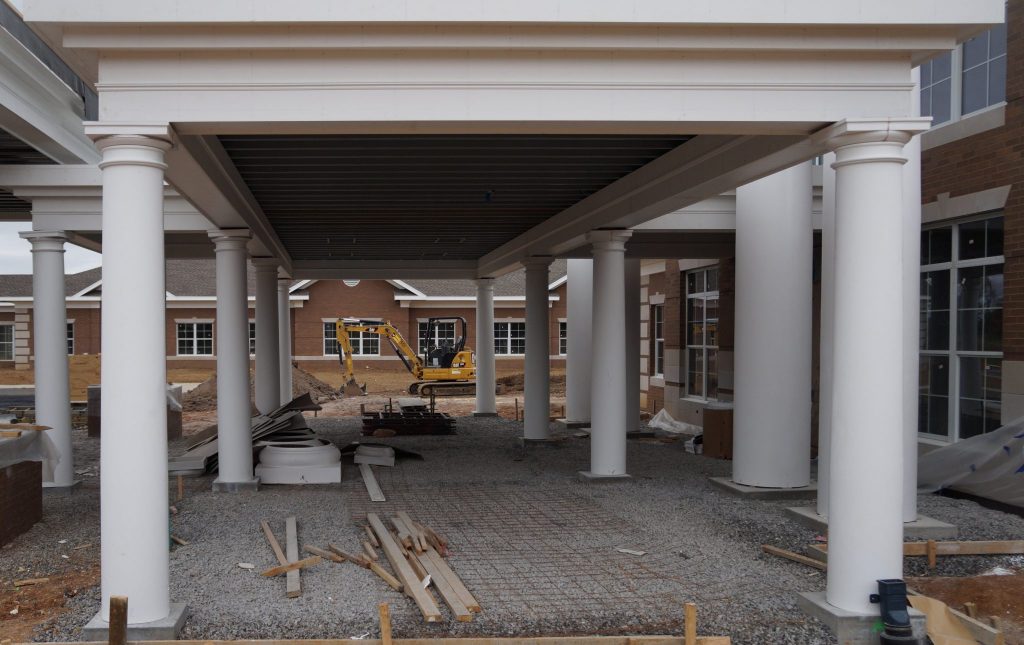 *We do offer a subset of our RoyaLite™ fiberglass columns that are load-bearing and manufactured as whole columns using a pultrusion process. These columns are only available as 8" and 10" round non-tapered and 6", 8", 10", and 12" square non-tapered and can span up to 20' in height. These columns are much lighter and bear less weight than the cast fiberglass alternative. They are pulled through a die (mold) which is why they can only be made in non-tapered and consistent shapes. These columns, due to thinner walls, are not recommended to be split but can still be used as column covers if installed concurrently with structural supports.
If architectural columns are load-bearing, why are structural columns used inside of them?
Our RoyalCast™ and RoyalStone™ columns are load-bearing but they will only bear a certain amount of weight (see load-bearing capacity charts). In general, the wider the column, the more weight in can bear. Even though our larger columns can each bear up to 20,000 pounds, sometimes that is not enough to meet building code requirements, requiring additional supports to be used within the architectural columns. But, the main reason that architectural columns are often used as covers is because they aren't structural. A structural column prevents uplift. In other words, our columns can bear weight that is applied from above but they will not hold something down, like a roof, that could lift up with a strong wind. Some people incorrectly use these words, structural and load-bearing, interchangeably. In some cases, an architectural column can provide structural integrity when used in combination with a Simpson Strong-Tie or equivalent. These whole columns are structural, however, when lateral force is applied to them in the case of railings installed between two columns. Consult your architect or engineer for proper installation methods.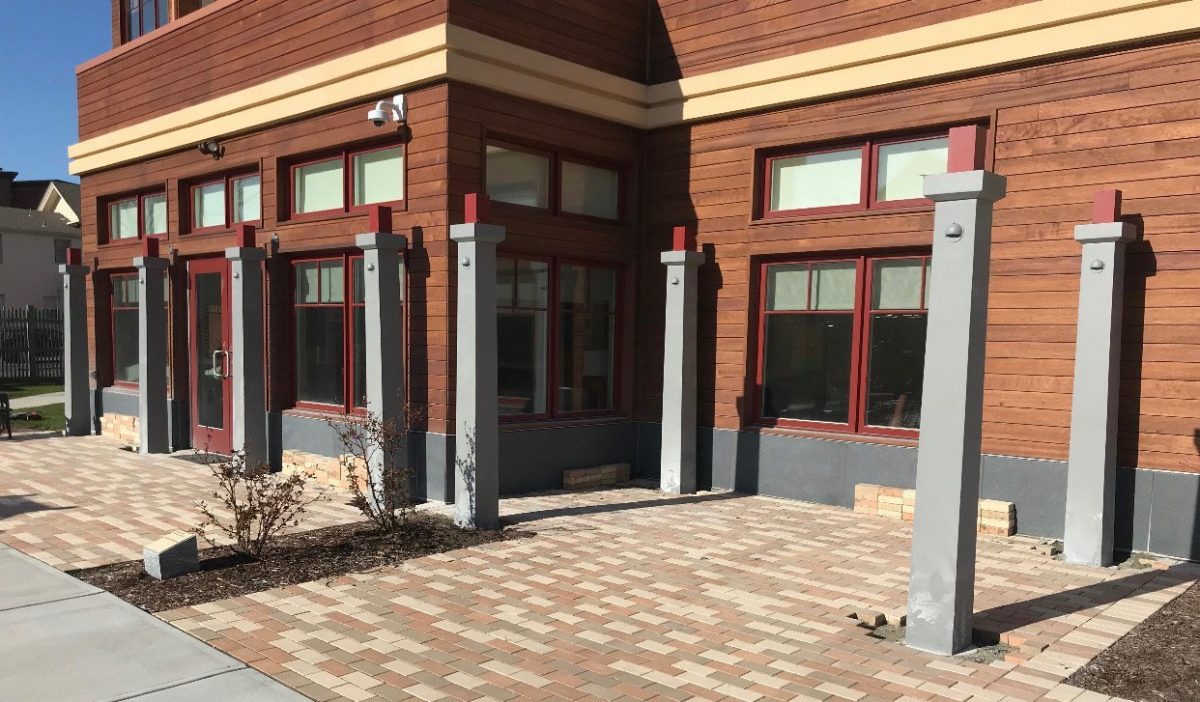 Column Covers Price Comparison
In general, when considering round columns, RoyalCast™ split columns are less expensive when dealing with diameters up to 14". The only exception is the 8″ and 10″ RoyaLite™ round non-tapered pultruded options discussed earlier (not intended to be split). For round columns, 16" and wider, RoyaLite™ FRP column covers become the least expensive in the paint-grade version (these are available in pre-finished color options, granite-like, and stone-like finishes, which are significantly more expensive). RoyalStone™ is about 30% more expensive than RoyalCast™ but you save money by not having to sand, prime, and paint so maybe the premium is offset with lower installation costs. Of course, there are always exceptions to each rule so if you are budget sensitive, ask us which option is the least expensive or request a multiple option quote. The good news is, since we use the same molds for all of our products, you can mix and match these materials on the same project.
When considering square options, PVC column wraps tend to be the least expensive, followed by pultruded RoyaLite™ columns (not intended to be split), RoyalCast™ split columns up to 14", paint-grade RoyaLite™ column covers from 16" and up, and ending with RoyalStone™ as usual. Again, there are exceptions to these rules so when in doubt, ask us.
Column Covers Summed up
All of our columns are either intentionally made as column covers or can be split to become covers. On the flip side, our column covers can be assembled into whole columns but remain decorative and bear nominal weight. Our cast columns (RoyalCast™ and RoyalStone™) are load-bearing but not structural insofar as uplift protection is concerned, but they do provide structural integrity to railing systems attached between them. To avoid a visible seam on synthetic stone column covers, consider installing whole columns concurrently with structural supports. Concurrent installation can be done with any of our whole columns. If you are budget sensitive and don't have a material preference, request a multiple option quote. Mix and match our columns on the same project as they are made from the same molds.
Why choose Royal Corinthian column covers?
We guarantee the highest quality, fastest lead-times, and lowest prices on American-made architectural columns and column covers. We are big enough to get volume discounts on materials but small enough to keep our overhead low, so we pass these savings onto you. We are the only manufacturer in the country that offers all of these material options under one roof. We have installed our products for decades so we know the nuances of installation and are ready and willing to assist throughout the installation process. Our caps and bases are made of the same material as the shaft instead of cheap imported alternatives. Our fluted columns have deep rich flutes as opposed to shallow flutes that are much easier to manufacturer. We offer the most diverse column line in the industry as far as available materials, styles, and sizes and complimentary balustrade systems, cornices, and pergolas. While we don't cut corners, we still compete on price.
We thank you for your interest in our architectural products and are ready to assist in the design process no matter what stage it's in.