Residential and commercial construction is a fluid enterprise. With construction, there are always noticeable trends. So what does 2019 have in store for us?
General Trends in Construction
With the hype over the Green New Deal and general awareness of environmental conditions, green design and construction continues to be at the forefront of new construction. Every new project is expected to meet certain green initiatives aimed towards LEED certification.
Closely related to green is sustainable construction. Whereas green building is focused on reducing the carbon footprint, sustainable construction focuses on broader goals like efficiency in the use of resources, preservation of natural ecosystems, promotion of social and cultural progress, and more.
In the Chicago-land area, many are moving away from larger homes and concentrating on homes that are 1500-2500 square feet. Where we used to see modern overtaking traditional in the past, we are now seeing a mix of both.
Technological Trends in Construction
Construction management software continues to improve and become more affordable. Many companies are offering integrated packages that affordably bundle software for estimating, project management, scheduling, accounting, human resources, change orders, and so much more.
Drones, like management software, are becoming more affordable. Drones allow aerial access and photography of remote locations to gather data for safety inspections, project progress, glamour photos, and to collect other relevant data.
Modular or prefabricated housing, in keeping with green and sustainable construction practices, will continue to gain traction in 2019.
Safety equipment will see a rise in sophistication to offset the increase in construction related injuries and fatalities in recent years.
BIM will continue to gain traction. BIM, which stands for Building Information Modeling, is a computer representation of what the building, roads, utilities, landscape, and more will look like once the project is completed. In addition, BIM is used by engineers and architects to predict job costs and demonstrate how materials on the project will hold up over time.
Economic Trends in Construction: Material and Labor Costs
Building material costs will continue to rise mainly due to the uncertainty of the current trade wars. Rising interest rates, shortages in labor, etc. will also contribute to rising material costs.
Labor will remain tight due to the strength of the economy. Unemployment rates are historically low and construction activity isn't showing signs of stopping. The tightening of immigration labor will only exacerbate the effect of labor shortages on construction costs. This shortage will not only result in higher costs of construction but also longer lead-times for project completion.
Hopefully, advancements in construction technology and America's desire for efficiency will offset the higher costs of materials and labor.
Exterior Millwork in Construction Trends
Architectural Column Trends
Royal Corinthian has seen many trends for products related to our industry. Architectural Column demand continues to see a rise in square columns used to adorn craftsman style housing. The industry, as a whole, has seen a decrease in round tapered columns. However, Royal Corinthian has not. We continue to see a lot of demand for round columns with an increase in requests for round fluted and round Greek Doric fluted columns. Perhaps, as we are the only manufacturer that offers fiberglass, FRP, and synthetic stone Greek Doric columns, we have been the beneficial recipient of this trend. Our fluted columns, unlike many in the marketplace, offer deep, rich flutes that emulate ancient architecture.
Fiberglass Pergola Trends
We have seen a lot of demand for our fiberglass pergolas in general but, in anticipation of the "less is more" trends in architecture, we are offering our pergolas in more simple designs to those who favor modern over traditional. These modern pergolas don't have rafter tails and tend to be a single level of rafters rather than 2 levels of rafters and a level of purlins above. We find that these modern designs are more often used on commercial projects while the traditional styles continue to dominate residential.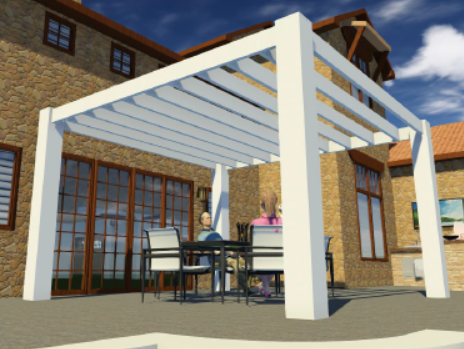 Polyurethane Cornice and Millwork Trends
While we continue to see a lot of demand for our polyurethane balustrade systems, the industry as a whole has seen a major decline in polyurethane millwork, especially for exterior applications. Brands like Fypon have seen a major decrease for their once iconic brand of polyurethane products. Alternatives like PVC and fiberglass have seen an uptick for products that polyurethane once dominated. PVC, unlike polyurethane, doesn't require painting and has a higher density, which leads to a more robust and durable product. Exterior polyurethane cornice or crown molding is being replaced by fiberglass cornice that is able to achieve the same intricacies in design but able to endure the elements and abuse to a much higher degree. Fiberglass cornice, facade elements, and millwork generally get painted but we are able to offer an unlimited array of pre-finished options as well as granite and stone finishes. These fiberglass products can imitate granite and stone at a fraction of the cost and weight and outlast them. Don't get us wrong, polyurethane millwork still dominates interiors for paint-grade and stain-grade millwork. It can achieve the ornate look of carved wood with a density similar to white pine but at a fraction of the cost and without the negative attributes of wood.
How These Trends Affect Royal Corinthian and What we are Doing About it.
The labor shortage has affected us too. To combat the shortage, we are constantly seeking ways to make our production processes more efficient using our existing labor force. Our employees are our biggest asset but they can only do so much given the resources available to them.
In these past few months, we have reorganized our warehouse and equipment in order to insure the most efficient system for fulfilling orders. In addition, we are designing several pieces of equipment that will split column covers quicker and fully sand our columns. The industry currently sands the column seam and expects the installer or painter to sand the rest. In light of the labor shortage in the construction industry and our general desire to make the best architectural columns in the industry, we are hoping to alleviate the pressure on these installers/painters by doing that additional work for them. Stay tuned!
As far as BIM is concerned, we are in conversation with experts to see how we can supplement our comprehensive CAD library with BIM objects. It's an expensive and time consuming process, but again, if we can do something to ease the pressure on architects and engineers, we will explore that process thoroughly.
We've also noticed that most manufacturers in our industry are hesitant to recommend products that work well with theirs. We have, on the other hand, taken the initiative to find primers, paints, adhesives, caulks, and hardware from reputable manufacturers that will work well with our products. Not only do we offer formal recommendations but we also go through extensive testing with these third parties and internally to insure that our recommendations work. Many of the products that we recommend, we use or our installers have been using for decades. We put ourselves in your shoes. What good are our fiberglass columns if we can't tell you how to finish them? What good are our fiberglass pergolas if we can't provide the hardware necessary to insure a lifetime performance or withstand hurricane strong winds? What good is our synthetic stone balustrade system, that comes in many pre-finished colors, if we can't tell you a caulk to use that closely matches in color and outperforms the rest?
In addition to these specific trends in our business, we are always looking at trends in composite materials. The majority of our products already come with a lifetime warranty but why stop there? We will continue to research these materials and will incorporate advances into our own lines. We will also continue to research new products that we can make with our existing materials in order to meet the ever evolving demands of the construction industry.
In fact, we have recently added new mold making technology that has significantly cut our lead-times for custom products. With the lead-times for new construction increasing, we are doing our part to shorten ours to alleviate some of the pressure in the field.
At Royal Corinthian, we aren't afraid of change: We embrace it and do our part to make it easier for our customers. While we don't see our classical line of products ever becoming obsolete, we will do whatever we can to participate in modern construction trends.