Wood columns are synonymous with rotting, cracking, splitting, and infestation but not Royal Corinthian RoyalClassic™ wood columns. In fact, our exterior wood columns come with a lifetime warranty when used in combination with our composite capitals and bases. These finger-jointed red cedar or red wood columns, when treated with an asphalt coating on the interior and primed on the exterior, will last for generations. We are able to provide these wood columns asphalt coated and primed, ready for installation and final paint finish upon arrival.
These exterior wood columns can come with caps/bases made from the same material but with a 10 year warranty. Unfortunately, there is little we can do to keep the exterior grade caps/bases made of wood from lasting as long as the shaft. But, since these columns are getting painted, there is no reason not to use the composite caps/bases.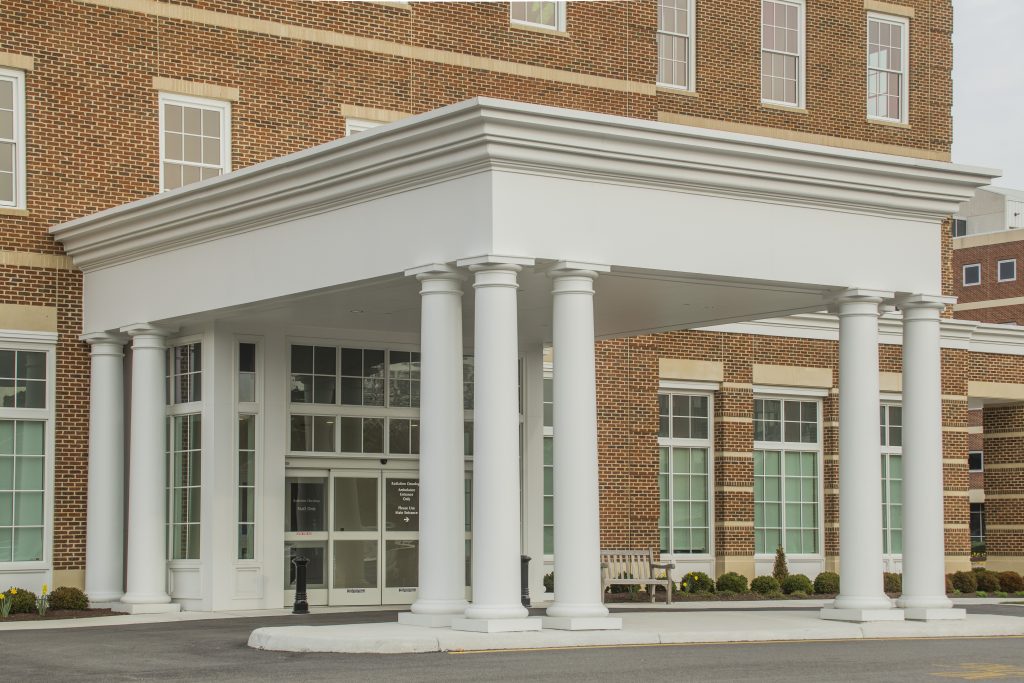 Exterior Wood Column Pricing
Depending on the size and style of the columns, exterior wood columns can be more or less expensive than fiberglass columns. Smaller columns tend to be cheaper in fiberglass while some larger exterior wood columns are less expensive. You can always price all our various materials if you are budget sensitive to determine which material is most suitable.
Architecturally Correct Proportions and Inexpensive Customization of Exterior Wood Columns
Entasis Taper of Exterior Wood Columns: Most of our cast fiberglass columns, lightweight fiberglass column covers, and synthetic stone columns are architecturally correct but only when made to the full size of the mold. Most of our stock sized columns, 6″ to 14″, are made from molds made to the full height of the column being ordered. For example, if you are ordering a 12″ x 10′ round tapered fluted column, we are using our 10′ mold to make that column. However, as with the rest of the industry, if you are ordering a 16′ column, it may come from a mold that is 18′ or longer. Of course, the column will still be beautiful but it won't be classically correct. Architectural columns, in keeping with ancient architecture, are supposed to come with the bottom third of the shaft without taper and the top two-thirds of the shaft with entasis taper. If you take the aforementioned 10′ column and trim a few inches from the bottom to fit the column into your rough opening of 9′-9″, you technically no longer have an architectural column. This doesn't bother 99.9% of consumers and 100% of consumers won't be able to tell the difference with the naked eye. For the discerning customer or someone wishing to emulate the Romans or the Greeks, the classical column is what they seek and we can provide that with our RoyalClassic™ wood columns.
Since all of our wood columns are manufactured using computer assisted lathe technology, it is very easy for us to make architectural columns in any diameter, width, or height. We can make all of the orders of architecture including: Tuscan, Roman Doric, Ionic, Corinthian, and Greek Doric and even those columns not found in the 5 orders.
True Sizing of Exterior Wood Columns: Another cheat, if you will, is that fiberglass columns, especially the smaller diameters and widths, tend to be nominal or "in name only". For example, a 12″ round tapered column will arrive at about 11-1/2″ much like a 2×4 piece of lumber is actually 1-1/2″ x 3-1/2″. Larger fiberglass columns tend to be true however. Most consumers don't mind the 1/2″ difference and even prefer it. Let's be honest, the Greeks and the Romans didn't use inches so an 11-1/2″ column might actually be more accurate than a 12″ column, but that is neither here nor there.
The beauty of our exterior wood columns is that we can make them true or nominal with the same level of effort. We can even make them in odd sizes like 13″, 15″, etc. whereas fiberglass columns come in even diameters/widths starting with 6″ and get bigger by intervals of 2.
Astragals on Exterior Wood Columns: Another difference between composite columns and architectural wood columns is that the neck ring or astragal on wood columns tends to be smaller. For some reason, the column industry decided to make the astragals on composite columns larger than originally designed. This isn't a good or bad thing as some people prefer classically proportioned neck rings while others prefer the more pronounced rings found on modern composite columns. Usually the trend is to cheat down when making composite columns so the bigger astragal is a mystery, even to us. As always, customization with exterior wood columns is limitless and at no additional cost so we can make the ring any desired size or shape.
Fluting on Exterior Wood Columns: When casting fluted fiberglass columns, it is much easier to de-mold the column shafts when the flutes are shallow. In addition, the deeper the flutes, the more complicated the mold. Royal Corinthian doesn't subscribe to this cheat so our fluted columns come with deep, rich flutes. It is much harder to make these fluted columns but we would rather work harder than sell you columns that aren't as beautiful.
With RoyalClassic™ wood columns, there are no molds. All these columns get crafted on a CNC lathe. We rout deep, architecturally correct flutes into each and every fluted column.
Choosing Exterior Wood Columns or Composite
We can make architectural columns from all of our materials but, as mentioned already, there are limitations using our standard molds, especially when your rough opening is shorter than the full height of our mold. We are always adding new molds in order to offer as many architecturally correct options as possible from our composite materials. In fact, in 2018 we added 24 new molds for our 8″, 10″, and 12″ round tapered fluted columns. That is a lot of new molds for just 3 diameters. Most manufacturers don't bother with spending money on architecturally correct molds like we do. If you are set on using composite materials and want an architectural column that we don't have a mold for, we never shy away from custom. Every month we are adding custom molds that become standard.
If you desire an architecturally correct exterior column and you don't have the time to wait for us to make the mold, a RoyalClassic™ exterior wood column is the way to go. If you aren't sure which material to choose, you can always request architectural shop drawings at no charge for any of our columns, so that you can compare them side by side.
We look forward to helping you make your home or building beautiful.