Royal Corinthian manufactures RoyaLite™ fiberglass cornice and entablature, also called FRP or GFRP cornice. The cornice is made with polyester resin that is reinforced with 35% to 40% fiberglass: fiberglass is pound for pound stronger than steel, which results in a lightweight cornice that is unrivaled when it comes to longevity, price, ease of installation, and limited maintenance. We offer hundreds of standard cornices, all of which are easily modifiable to create even more options. We manufacture simple fiberglass cornice starting at 4" in height to complex cornice that is over 60" in height. We have fiberglass cornice that has integral brackets, corbels, modillions, blocks, or triglyphs, which significantly lowers installation costs as compared to cornices that have those elements loose. Customization is relatively inexpensive due to our in-house pattern and mold making capabilities.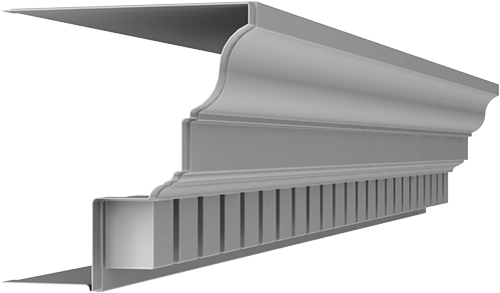 We have restored many historic cornices from photographs and dilapidated parts. This cornice is made from the same material as fiberglass boat hulls so when it comes to holding up to the elements, there is no better material to use.  Although used on residences and interiors, RoyaLite™ cornice is most often used under the soffit of government buildings, university buildings, and commercial projects in general.  We offer paint-grade marine gel coat, any pre-finished color, metallic , stone, and granite finishes.  Class A fire rating is available. Fiberglass cornice offers the greatest advantage over our other cornices when paint-grade or pre-finished cornice of intricate detail, elaborate design, of larger proportion, and one that will last a lifetime is required.
Material Composition and Process
RoyaLite™ fiberglass cornice, like our FRP columns, is manufactured using a combination of hand layup and spray up.  We coat our mold with marine grade white gel coat and sometimes with a stone-like aggregate and then proceed to add layers of fiberglass chop and resin.  We use state of the art chopper systems to insure consistency and strength in addition to heated curing rooms to insure the product comes out perfect. Our FRP cornice is typically around ¼" thick but, as mentioned already, lb. of lb. it is stronger than steel.  The lightweight nature of the product insures a simple installation without the need for equipment for heavy lifting.  In addition to weight and strength advantages, our cornice is manufactured with an integrated lap joint that allows for simple integration from one piece to the next.  We offer inside and outside corners in addition to custom corners and radius cornice so that you can avoid mitering the cornice on site and are able to incorporate our product on radius areas and not just straight.  When desired, we integrate a gutter channel into our cornice and/or vents which eliminates the need for gutter systems and soffit ventilation, thereby decreasing overall project costs. Our FRP cornice is made with general-purpose resin or, where Class A rating is required, we use a resin that meets the ASTM E 84 rating for flame spread and smoke density.
Our RoyaLite™ fiberglass cornice is available in many standard profiles and the majority of our standard profiles can be easily modified to create even more "standard" profiles. With our in-house mold making department, custom cornice is a nominal upcharge. In fact, all of our standard FRP cornices were at some point custom so we encourage Architects to work alongside our staff to incorporate their vision for a cornice that meets his/her criteria for form and function.  The majority of our mouldings come in 8' lengths with integrated lap joints and many of our FRP components can be combined to form 2 or 3 piece entablatures. Our cornice can be accompanied by loose or attached dentil blocks or corbels. All of our cornice profiles are also available in cast fiberglass and synthetic stone.  Please feel free to browse our CAD files and incorporate our existing cornice, alter an existing cornice, or create one from scratch and we will make it a reality.
| | RoyaLite™ Fiberglass "FRP" |
| --- | --- |
| Best Application | Lightweight and versatile |
| Factory Finish (standard) | White marine-grade gel coat |
| Factory Finish (options) | Prefinished colors/textures |
| Price Comparison | $ |
| Styles | Standard and custom |
| Typical Length | 8′ |
| Wall Thickness | 1/4″ |
| Weight (sq ft) | 2 to 4 lbs |
| Warranty | Limited Lifetime |
| Advantages | Stronger than steel but light |
| Customizable | Yes |
| Fiberglass content | 35-40% |
| Filler | None |
| Fire Rating | Available: Class A |
| LEED Points | Available |
Please follow us on Facebook, where you will find additional project pictures.