Which Material is Best for Replacement Columns
Wood columns will rot, crack, get infested, and/or warp, which is why the warranty is usually 1 year. Aluminum columns will corrode and concrete will erode. The best material to use for replacement columns that have rotted, corroded, or eroded is any of the materials that we manufacture. All of our composite columns, whether fiberglass, FRP, synthetic stone, or PVC, come with a lifetime warranty so you really can't go wrong.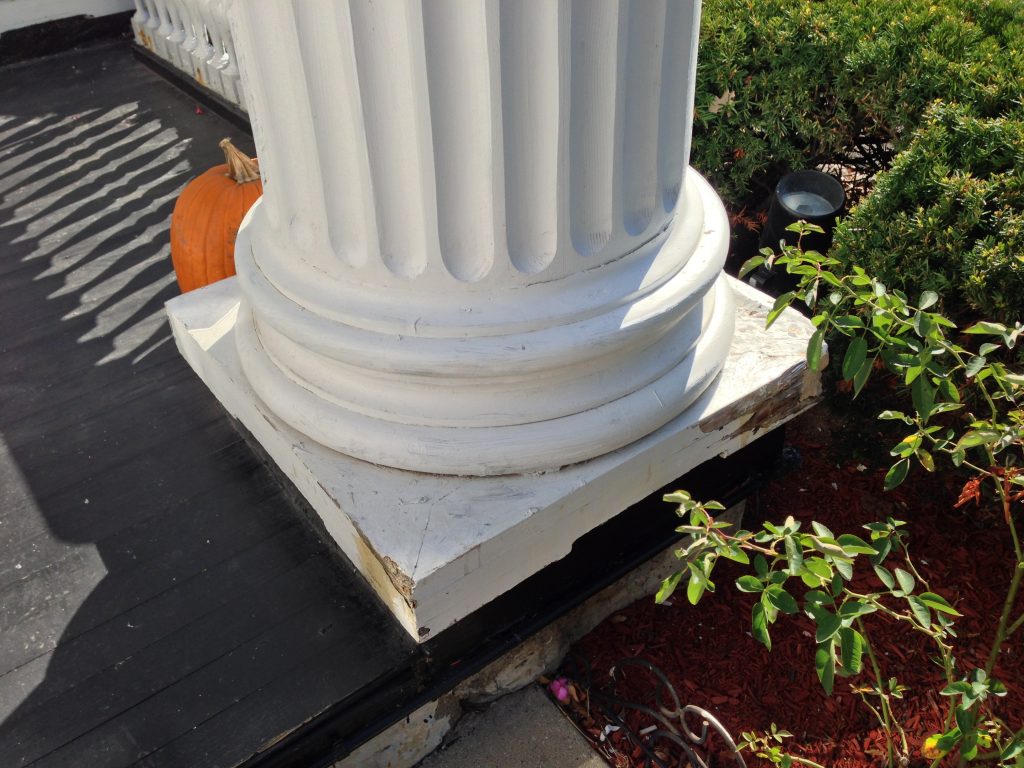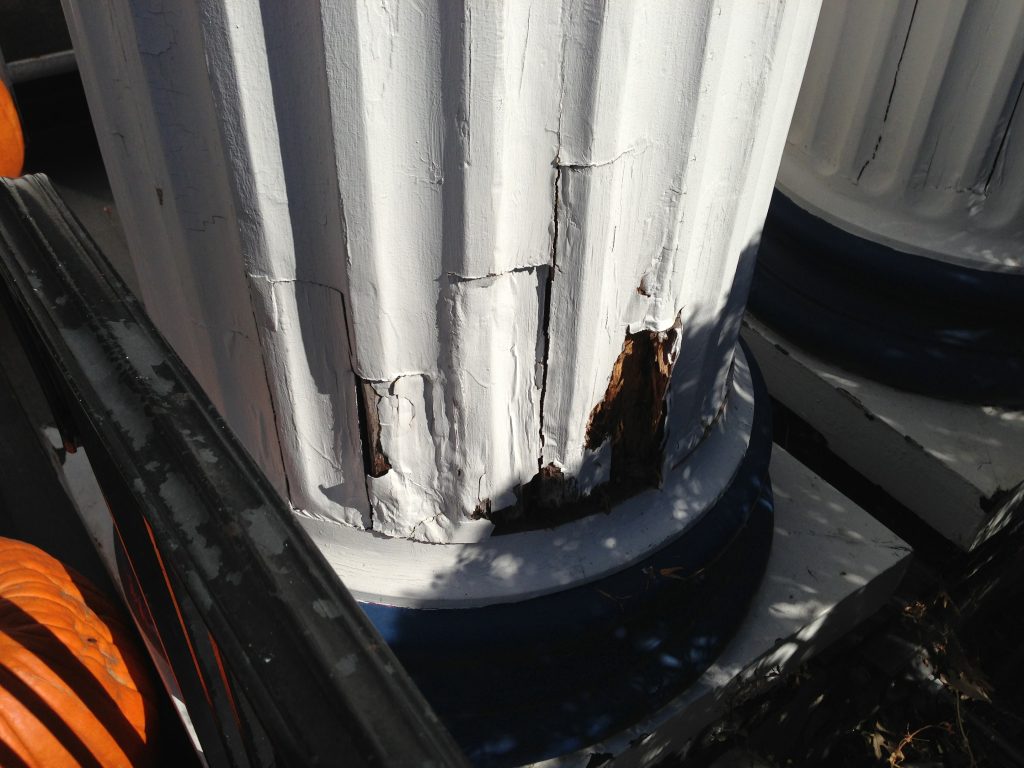 Porch Column Base Replacement
More often than not, the base of a wood column is the first to go. The most popular product to use for base replacement is our poly/marble composite bases, which is essentially the same material as our cast fiberglass. The bases come with a lifetime warranty just like the rest of our products. We offer Tuscan, Doric, Attic, Box, Ogee, Craftsman, and will never shy away from historic replication or custom base styles. Read more about replacing rotted column bases (includes installation instructions).
Column Bases are Easily Adjustable to Fit Your Existing Columns
In addition to using our bases with our standard hole openings, we are able to increase or decrease the hole opening to fit around your existing columns. We can split the base if needed so that it will go around your column. If you require a base that the column sits on, we are able to plug our bases one size down to create a wall of about 2″-3″ for your column shaft to sit on. We can make the base completely solid if you prefer. We can remove, extend, shorten, or make the plinth round or square. As if all of this was not enough, we can even make your replacement bases with vents to allow for your wood columns to breathe.
Replacement Capitals
We have an assortment of replacement capitals as well. We offer Tuscan, Doric, Box, Ogee, Craftsman, and anything custom of course in addition to an assortment of decorative capitals. As with our replacement bases, our capitals are just as customizable.
How to Replace Rotted Porch Columns
Every porch column replacement project is different. We have been manufacturing and installing columns for over 24 years so send us pictures of what you have or describe it to us via email, our contact form, or over the phone and we will help you figure out the best way to replace your columns or parts of them. Generally speaking, if you are replacing the entire column, it is important to put up temporary supports in case your columns are load-bearing or structural.
Why Royal Corinthian Replacement Columns?
Our columns are second to none. We offer commodity paint-grade options as well as high-end pre-finished options. We guarantee the lowest prices through our distributors, the fastest lead-times, and unrivaled quality. We are the only manufacturer that customizes affordably. We have installed our products so we have a deep understanding of the nuances associated with replacement porch columns. Please call us at 888-Column-1 (888-265-8661) or fill out our contact form if you need to contact a distributor or salesperson.