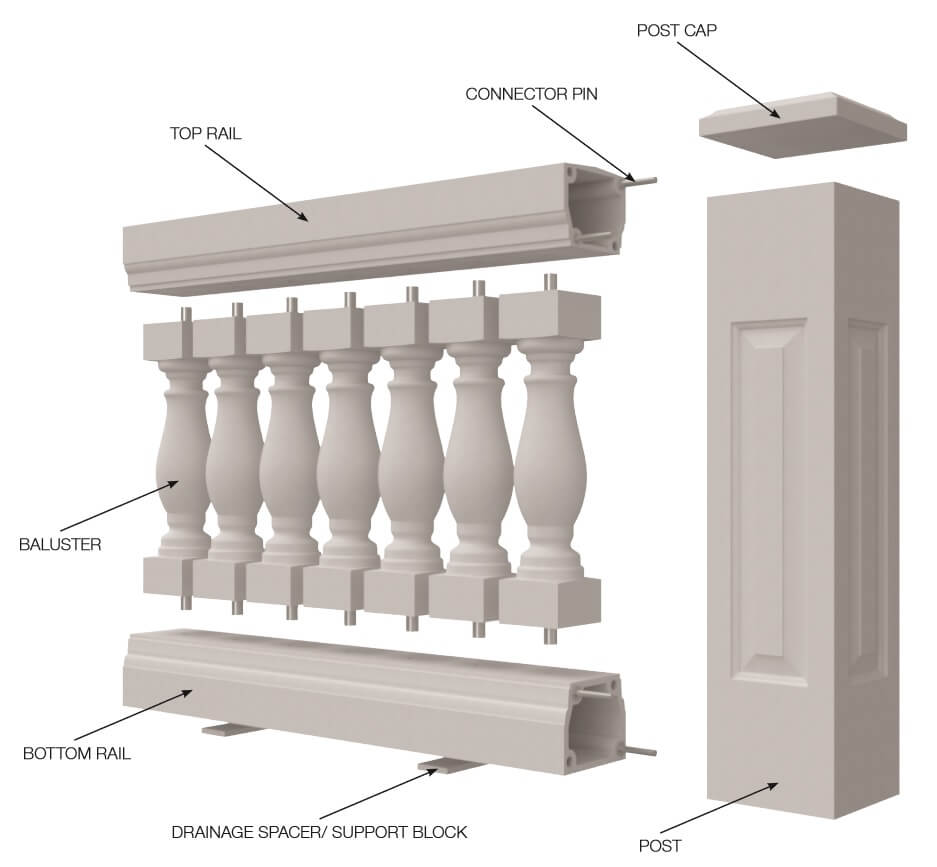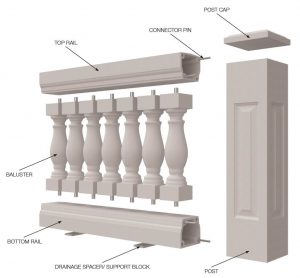 A balustrade is essentially a railing system used for both interior and exterior applications. It is comprised of a top rail, balusters or spindles, the hardware necessary to secure the system, and often times a bottom rail, posts, post caps, and decorative balls or finials.
Balustrade Materials
A balustrade can be made from virtually any material, including but not limited to: wood, vinyl, cast stone, concrete, G.F.R.C, glass, metal, stone, composite, fiberglass, synthetic stone, high density polyurethane, and more.
At Royal Corinthian, we focus on balustrades made from composite materials only. We do not offer wood as it rots, cracks, splits, and gets infested. We do not offer metal as it rusts and corrodes. We do not offer vinyl as it is flimsy and has a cheap appearance. We focus on products that we know will last for generations and will be aesthetically pleasing: fiberglass, synthetic stone, and high density polyurethane balustrades. Fiberglass needs to be prepped, primed, and painted. Polyurethane comes primed, ready for final paint finish. Synthetic stone is a man-made stone that looks and feels like natural stone but at a fraction of the cost and weight.
Limitless Combinations
Our railings, balusters, newel posts, post caps, and finials can be combined to form thousands of variations. We have the most diverse balustrade line in the industry. In addition, our materials, since they come from the same molds, can be mixed and matched on the same project. Where there are strict weight restrictions, like on a roof, use our polyurethane balustrades. Although, we have the ability to make our fiberglass and synthetic stone systems with a lighter filler. Where you want a stone-like balustrade, like on a front porch, use our synthetic stone balustrade.
Belly Balusters and Curved Railings
While we offer railing systems that start at 4 inches wide and with simple picket-style balusters, a good majority of our customers come to us for our medium sized systems. Our customers are usually looking for a robust balustrade system with belly balusters, our forte. We are also one of the few manufacturers with the ability to manufacture curved and radius stair railings.
Installation Savings
Most of our balustrades can span up to 20′ without interruption whereas cast stone, concrete, and natural stone typically max out at 4′. The more railings you need to piece together, the higher your installation costs, not to mention the annual upkeep required on all of those seams. The lighter alternatives to our products can span up to 12′ which is better than 4 but not quite 20.
Structural Reinforcement Savings
While our balustrade systems are robust, they are much lighter than cast stone, concrete, and natural stone. Our polyurethane system has the density of white pine so it weighs no more than a wood alternative but offers none of the negatives. By using our "lightweight" systems, you don't have to spend as much on reinforcing your balconies and decks, which can translate into tens of thousands in savings.